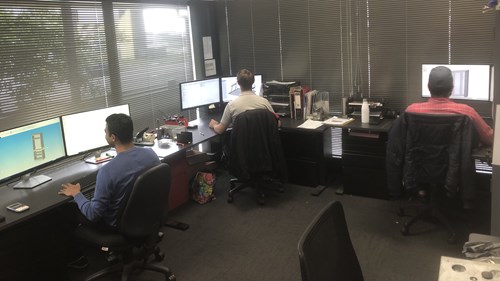 Component Design
Our engineering staff turn our client's problems into ultra-functional, cost effective solutions, on tight time frames, typically within 2 - 3 weeks. 
We use the latest version of Siemens SolidEdge 3D CAD software to realise and test designs before any steel is cut. We use Autodesk Showcase to produce photo realistic images for customers involved in projects where communication of aesthetics is vital, such as office fit outs. We have CAM (Computer Aided Manufacturing) software that allows us to turn your CAD designs into machine code and then into manufactured objects, all with the click of a button.
We will prototype and develop your products and components with you to a final 'design for manufacture' solution which can be produced economically.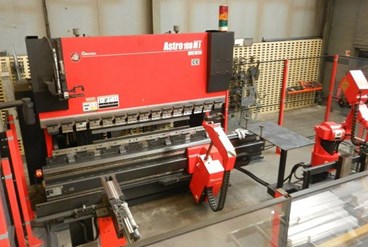 CNC Press Brakes
We have a range of CNC and NC press brakes from 1200 mm to 6000 mm long. We offer high speed, precision bending of sheetmetal up to full sheet lengths. See our guide for designing items for press brake folding. Our robotically operated press brake can fold components fully unmanned.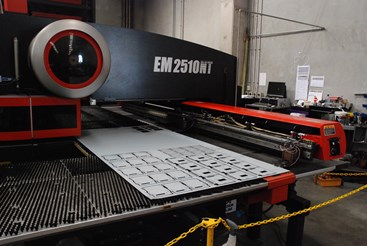 CNC Turret Punches
We are able to perform a range of small deformation sheetmetal forming by using specialised tools on our turret punches. These include part shear details to give clip-together or location details for assembly; larger dimple details for feet or countersunk fasteners; louver vent forming and small flange forming. We are also able to stamp symbols onto sheetmetal, such as an earth symbol.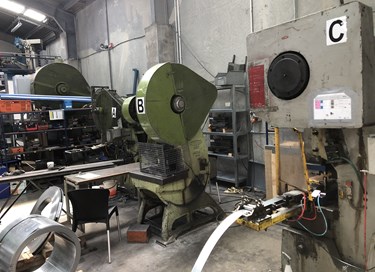 Power Presses
When used with custom tooling, power presses can perform drawing and forming operations in a single stroke, economic for mass production. Our press-shop includes a range of power presses that can be set up with dyes as required to run with strip or coil material feed.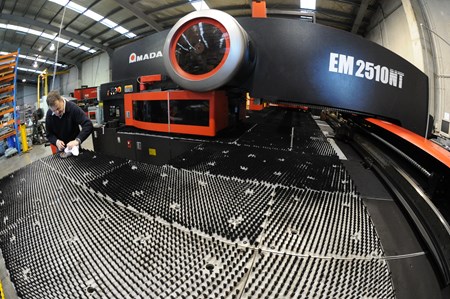 CNC Turret Punch Press
We have four turret punch presses - A Murata C2000, Murata C5000, Amada EM2510NT & Amada Apelio Punch-Laser. These offer a broad set of capabilities for punching up to 8mm thick steel, stainless steel and aluminium. High volume work is run on the Amada EM2510NT as it has automated sheet handling which allows overall unattended operation and significant production savings. We typically process standard sheets (2438 x 1219 mm), but have the capacity for some larger sizes.
NC Guillotine
We have two sheet guillotines to cover cutting a range of sheetmetal up to 8mm thick. We offer NC cutting precision and both guillotines cut full 2438 mm width.
Power Press
With a range of mechanical power presses ranging in capacity from 30 to 150 Tonnes for both profile punching and forming operations. High quality tooling can be arranged for specific parts to run in these presses. Coupled with automated coil feeding plant, we offer very competitive mass production of plates and brackets.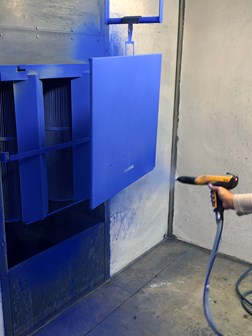 Surface Finishes
We have an onsite powder coating plant with pre-treatment facilities. Our powder coating oven can accommodate parts up to 4 m long. In addition to powder coated surface finishes we arrange for products to be screen printed, removing this hassle for you. Your products are delivered fully finished and on time.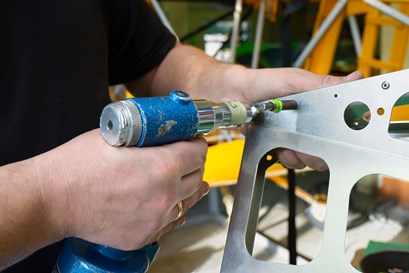 Spot Welding
Spot welding is an ideal assembly operation for light steel gauges. It allows highly repeatable and reliable metal welding, all with rapid process times and a very small heat affected zone on the welded part. We have a variety of spot welding machines of different duties and specialised fabrication workbenches, jigs and fixtures to ensure accuracy and square-ness of any fabrication work. We typically spot weld steel gauges up to 1.2 mm
MIG/TIG Welding 
We offer both MIG and TIG welding services for steel, stainless steel and aluminium. MIG welding is significantly faster but can require finishing work, whilst TIG welding gives a much cleaner as-welded finish and is reliably used for lighter gauge metals. We have experienced engineering fabricators on staff to meet your requirements for both MIG and TIG welding.
Soldering
We use soldering techniques to seal items, making them waterproof. Typically joins are secured first with spot welds before soldering, for a mechanically sound joint as well as a waterproof one.
Inserts
Sheet metal inserts typically allow assembly using threaded fasteners, for example press fit nuts in an enclosure allows items to be securely bolted into or onto the enclosure. The world of inserts, and our experience with them, ranges beyond typical treaded options however, see this catalogue for what is available. We have an insertion press with a range of tooling for insert installation. We also have spin riveting and Riv-nut installation options.
Fasteners
We have a skilled and efficient assembly line where parts are assembled using fastener systems ranging from common place to customised. We can accommodate fastener technology appropriate to your designs.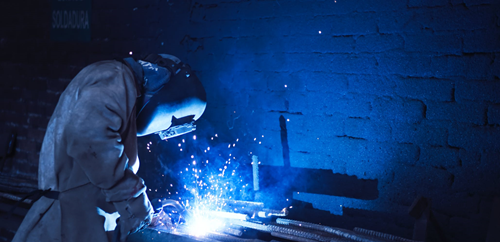 Light Fabrication
Fielden Metalworks do light fabrication work, both for discrete products and to compliment sheetmetal items. We have significant experience manufacturing fabricated tubular items such as display stands and racking. We have highly skilled fabrication staff, specialising in MIG and TIG welding, and can undertake steel, stainless steel and aluminium fabrication.